When:
August 8, 2015 @ 8:00 am – 1:00 pm
2015-08-08T08:00:00-04:00
2015-08-08T13:00:00-04:00
Where:
McKnight Village Neighborhood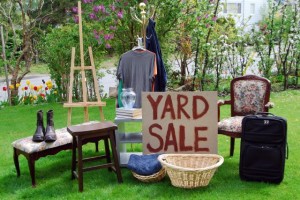 It's that time of year again! McKnight Village will hold its Annual Neighborhood Yard Sale on Saturday, August 8, 2015 from 8am-1pm. So start clearing out those unused items and make a little cash too! If you (or a family member) would like to participate, there is a $3 cost to cover advertising. While we will accept payments up to the date of the event, it must be received by July 26 to be included on the Craigslist online map.
As was done in previous years, we will use an online map of the addresses that are participating and this map will be posted on Craigslist to attract more traffic to the sale. A link to this map will be available through email.
In addition to Craigslist, we will use signs, print ads, online ads, and flyers on local community bulletin boards. Signs will be posted prior to the sale. For those of you participating don't forget to advertise some item on Craigslist on Thursday and Friday prior to the sale to draw more traffic in and get those items off your hands!
A few new things we're trying this year as well! Strictly voluntary, but if you choose, you can donate any portion of the money you make at your sale to benefit the Rec! Also, if you have a nice item (or a few) that you'd just like to get rid of, you now have the option to have someone else sell it for you and the money will benefit the Rec! See the form below for more information.
We'll also need a few good neighbors to help hang and remove signs, post flyers on local boards, and help in other ways! If you're willing to help, please use the form to let us know!
Below are a few yard sale tips. So let's have fun and sell, sell, sell! We look forward to seeing you on August 8th!
Tips for a Successful Yard Sale:
Clear a space in your home NOW to start gathering items – a garage, a spare room, an empty corner.
Invite family/friends to donate their goods to your sale . . . some people would rather just give you their unused items than transporting it to a donation center.
Offer younger family members the opportunity to become entrepreneurs – selling drinks, food, a table of their toys or even a car wash!
Price it right – are you trying to make money or get rid of them?  Offer discounts for buying multiple items you have several of (books, CDs, etc.), or even "fill a bag" prices.
Separate clothes according to sizes and either fold neatly or run a clothesline to hang them from.
Put pictures of big ticket items on Craigslist the day of and reference the community wide sale.
7.  Encourage people to stop at your sale by putting a box of free items or some of your