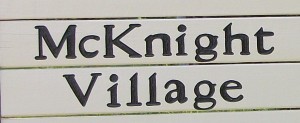 McKnight Village is a unique neighborhood priding itself on being a close-knit, caring and friendly community with a family focus.  This atmosphere has been fostered for more than 60 years through planned community activities and social events.
McKnight Village Civic Association
The McKnight Village Civic Association was founded July 12, 1948 to promote the best civic interests of the community. Under the leadership of its officers and board of directors, the Civic Association takes the initiative in solving community problems, sponsors both adult and family programs druing the year, and supervises the operation of the McKnight Village Recreation Area.
Select MVCA Sponsored Activities:
• The Rec Management, Maintenance & Rental
• Village Fest
• Golf Outing
• McKnight Village Neighborhood Garage Sale
• Newsletter & Neighborhood Directory
• Community Advisory Services
McKnight Village History
Coming soon!
McKnight Village Homes For Sale
Coming Soon!